I teach at a university, although I am not a professor. I work for the WVSU collaborative program, which is a partnership between the university and Kanawha County Schools. High school students from all over the county come to the university to take college courses as well as high school classes. My responsibility is to teach the high school level English/Language Arts, as well as mentor a small group of these students and help them become successful university students.
The university is also my alma mater, which means I am familiar with the campus and even with some of the remaining professors who were part of the faculty when I attended from 1997-2004 (don't ask why it took almost seven years). One of these professors is a favorite, Dr. Ladner, who taught Gothic Literature, among other Language Arts courses. I remember completing a project for her class in which I used Fight Club as well as Edgar Allan Poe's "William Wilson" to illustrate the use of the doppelganger motif in both classic and modern literature. At the beginning of this school year, I dropped by her office to say "Hello" and let her know I was teaching for the collaborative program. She was enthusiastic and said, "You know, I thought about you the other day." I was intrigued as she explained. "Someone was talking about Fight Club, and I remembered you loved that movie." I resisted the urge to say You don't talk about Fight Club, and I smiled. I was honored that after about 16 years she remembered a project I completed for her class, something on which I probably procrastinated.
At the beginning of this semester, I received an email request from Dr. Ladner, asking me if I would like to speak to her First Year Experience students (kind of like an "intro to college life" sort of class). I agreed, mostly because I really appreciated her selecting me as a presenter. I was nervous, even though I have spoke to groups before and public speaking isn't usually a problem for me. I was nervous because I wanted to impress Dr. Ladner. I wanted to do a presentation as memorable (or better) as my Fight Club project.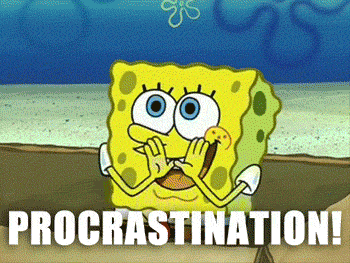 But what did I do? I procrastinated. I waited until the last minute to prepare for this speech (like the day of…). So as I walked into the room with a rough idea of what I wanted to say, I stood at the front and saw Dr. Ladner sitting in a desk, watching me intently. I began with some background about how my family and I didn't think college was an option because of money struggles, how I tried the military but couldn't because of health problems, and the steps I took to learn about options to help pay for college. I also shared some inspiring words from Maria Popova of BrainPickings that also served as tips for living a good life.
When I left, I beat myself up so much, certain I had rambled and wasted Dr. Ladner's and her students' time. However, I had the following conversation on Messenger with a friend who teaches with Dr. Ladner:
"I heard you knocked it out of the park yesterday in the GED101 class."
                                 "Really? I was surprisingly self-conscious about it afterwards. I'm glad she felt I did well. Thank you."
"Barbara came into my office to brag on you. She called you 'memorable.'"
                                 "Wow. That's an honor, really. She's the memorable one. I adored her and her Gothic Lit. class. I still talk about it and her."
"She adored you from that class as well."
That word stuck with me well after this conversation. Memorable? Me? But I didn't do anything special, really. I just…talked. And in her Gothic Literature class, I was just doing what was expected of me as a student. How was I memorable?
Fast forward to this week. I saw into Dr. Ladner on campus and she stopped me. "I talked to the president of the university about you." I felt my face warm as she continued. "I was encouraging him to recruit in some of the poorer counties, like McDowell County, and I felt a story like yours would be inspiring to someone who doesn't feel like college is possible." I didn't know what to say, so I mumbled.
"Wow," I said. "Thank you. That's really cool." That's really cool? Really? That's all you can say to one of your favorite professors who just dropped your name to the most important man on campus? "Thank you," I repeated.
So this is what I learned:
Sometimes, just being your authentic genuine self can impress and inspire more people than you know.
Say "Yes" when someone you trust and admire invites you to share what you have to offer, even if you don't feel you have much to offer. Word might spread to others who need or could be inspired by what you bring to the table.
What you think others think of you is probably not what others think of you.
You have a voice. Find it, then take a risk and share it with others
Few things are more humbling and more honoring than when someone you admire and respect holds you in high regard and sings your praises to others; this is perhaps the greatest compliment.
I plan to introduce myself to the president of the university next week in hopes that he can put a face with the name and perhaps keep in touch with me should he decide to go forward with the recruiting idea. I would be honored to speak to upcoming potential students about the real possibility of getting a college education, in spite of looming student debt, busy lives, and financial woes.
I plan to make Dr. Ladner proud.